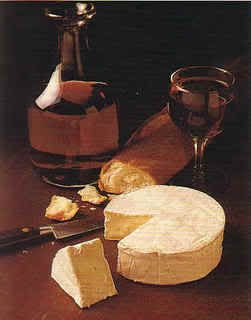 It's been a while since we Sunday lunched *out* but today we headed to our local resto and took our seats with a view of the Chateau of Jumilhac. Rural France pretty much shuts in winter, the locals hibernate after the effort of Noël and in preparation for the party season of summer. So we found ourselves one of only three tables in the restaurant allowing for an exceptional level of service, winter has it's bonuses.
A little foie gras to start, then confit de canard for him that eats meat and for me an omelette aux cèpes, fromage and charlotte aux framboises and crème brûlée. All washed down with a nice Pécharmant (local Dordogne red) and chased with a small strong café.
Got home rather full and decidedly short on fresh air, so pulled on the jods and inflicted my extra few kilos on theMoo. Good boy in the school but definitely doesn't like leaving Chapiro at the moment. Worked a lovely exercise on a circle going from shoulder-in to travers (few steps of each) on the left rein it helped stop the curl back that we get in shoulder-in and on the right rein he found it pretty hard so we ended up riding almost squares. Very telling of his strength and I'll definitely revisit this. Also used the exercise from last week, counter shoulder-in to a moving turn on the haunches into a half pass to return to the track and start again.
A little trot to finish, a little calmer I think but still a way to go. Finished by taking him up the lane and round the little triangle hack which only takes about 25 mins tops, ideal as it's very hilly but doesn't bore me, lol. He was a good boy as we have to go out alone and he backs off a little, on the positive side, that does give me a chance to put my leg on; an unusual phenomenon for us.